October is pink month, meaning it is breast cancer awareness month. And, there are so many worthy campaigns that are run at this time of year to raise awareness around breast cancer. I do my best to support them, where and when I can. I have been very lucky not to have lost any family members to breast cancer or any other cancer for that matter, but one of my childhood friends, lost her mum to cancer…so in a small way, I can relate as to why people feel so passionately about this month and these campaigns.
Cancer doesn't discriminate and sadly no one is immune from it – the scary fact is 1 out of 8 women are affected by breast cancer. Therefore, it is very important to be aware of the signs and symptoms, as early detection is very important and could save your life. For more information, visit the Pink Drive website, as they have lots of information on early detection.
NOW for the more light-hearted fun stuff : 
CRAFT Restaurant in Parkhurst is doing something really cool to raise awareness of breast cancer and promote the importance of early detection. I just LOVE the idea…they are hosting The 4th Avenue Bra Run. They are encouraging people (men & women alike) to rock up at CRAFT to run in a bra. There is no payment required to run, but of course it would be great if you could support breast cancer by having a coffee or light meal before or after the race, as a portion of CRAFT's October turn-over is being donated to breast cancer, specifically the Pink Drive.
Me :
As I am getting into this whole exercise, running, being and getting fit mind set – this event really appeals to me and I think it is a great way to bring people together to support a great cause…it also promises to be a load of fun…especially if we can get the guys involved!
Provided my shoulder has healed (sadly I have a rotator cuff impingement – off for a scan & x-ray later in the week to check for a tear) I would like to participate…however, I am not sure about running in a bra only but it is for a good cause so I am or could be tempted…hehe!
Details of The 4th Avenue Bra Run :
Date : Sunday, 26th October 2014
Time : 11h00am – 11h30am
Venue : Starts and ends at CRAFT, Parkhurst
Cost : Nothing
General : Participants stand a chance of winning fabulous prizes sponsored by retailers from 4th Avenue
Invitation :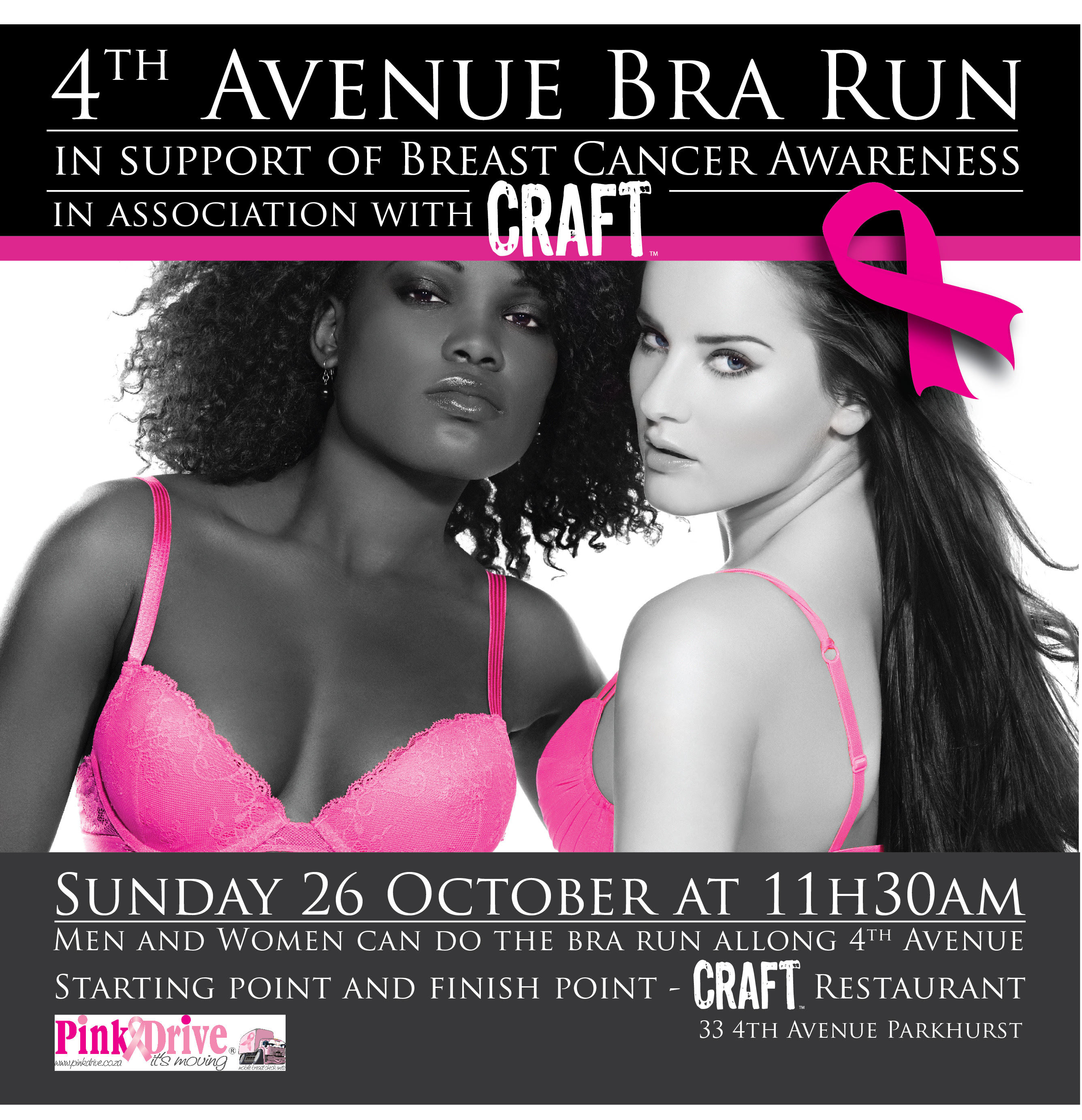 Contact details for Craft :
Facebook : CraftRestaurant
Twitter : @CraftParkhurst
Instagram : @CraftParkhurst