As it is the month of love and Appletiser's new limited edition collectable pack is all about romance and love. I have paired up with them to offer you the chance of winning a romantic and magical picnic experience.
The prize includes having a romantic picnic set up for you in your garden, on your patio, or anywhere in your home that your desire. You will not need to provide a thing… a personalised picnic basket will be delivered and set up for you and your partner. The basket will be filled with delicious treats, a soft blanket, scatter cushions, rose petals, chocolate truffles presented in a tin engraved with your names, Appletiser limited edition collectable bottles on Ice & 20 Long Stem Red Roses.
Wow…what more could you wish for! This is the making of a perfect date or a celebration of love!
How to enter 
All you need to do is comment below and tell me what is your must have picnic treat. Competition runs from 12th February –  26th February 2015. Winner will be chosen by lucky draw. Please note : the prize is only open to South Africans living in Johannesburg, Cape Town or Durban.
Below, I have included some addition information on Appletiser's awesome new limited edition collectable pack…I just love them and can't wait to collect them all!
Appletiser new collectable pack
Let Appletiser add a little spice to your life with their exciting new limited edition 275 ml collectable pack. There are 28 specially designed labels that relate to romance. With fun and quirky sayings like "I got it from my Mamma", "Wild Thing", "Hugs and Kisses" you can make your special someone, crush or friends feel loved with these unique limited edition bottles. They are so cute – I just love them!
Augmented Reality Technology
The new romance inspired Appletiser labels are not the only special aspect about the collectable pack. Appletiser has used Augmented Reality to make 3 unique, interactive 3D animated characters come to life with their new limited edition 275 ml collectable pack. AR-technology allows you with your smartphone or tablet to see computer-generated objects and characters interact with your real-world environment in three dimensions. With Appletiser's new collectible pack you are able to watch 3 fun characters come to life right in front of your eyes. Here's how it works:
Appletiser has created three distinct characters for their 275 ml collectable campaign. They are:

Johnny Appleseed – a quirky male character who hasn't had much luck in the love department
Apple Blossom – a beautiful, sexy and sensational female character who is looking for love
QP1D – he is not your average cupid, instead of a bow and arrow he uses a bazooka to make people fall in love, instead of wings he also has a hovercraft

To experience Appletiser's AR, simply download the APPletiser App (from the IOS App Store, Google's Play Store or www.appletiser.co.za) on your phone or tablet and use it to scan the bottom label of your purchased 275 ml Collectable Appletiser bottle
Once the bottle has been scanned, either Johnny Appleseed, Apple Blossom or QP1D will start entertaining you with a hilarious series of AR clips that vary depending on the 3 variations of the bottom labels which are Love, Romance, Dream
The real magic happens when you scan 2 bottles with 2 different bottom labels together at the same time – this will prompt Johnny, Apple and QP1D to interact with each other in various entertaining ways, right in front of your eyes
In other words you would need to put different bottom label bottles together to see the 9 different character interactions come to life.  For example a Love and Romance label combination will have a different interaction to a Romance and Dream combination and to a Love and Dream interaction etc.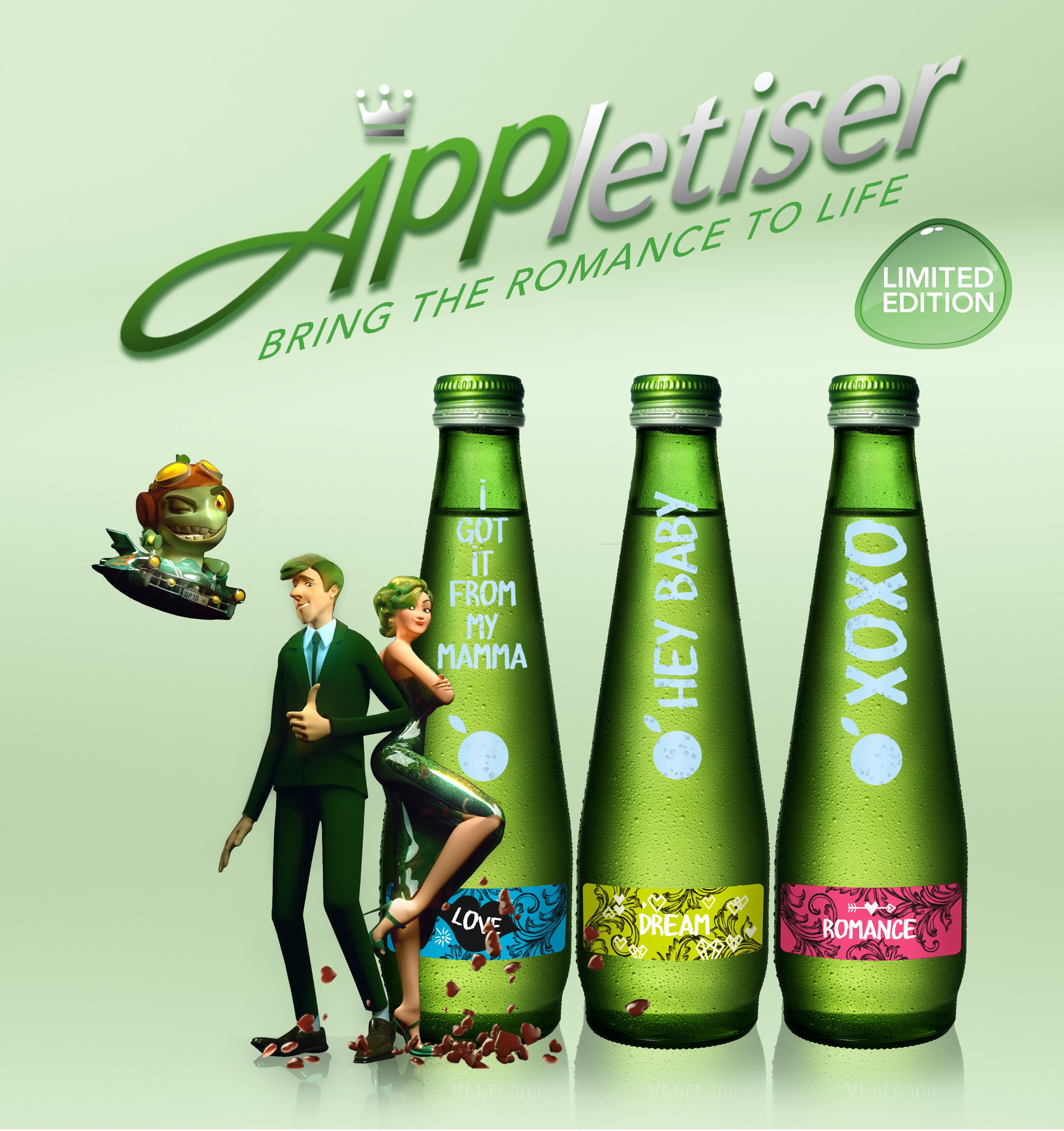 The limited edition 275ml collectable pack will be in selected stores by March 2015.
Contact details 
Facebook – www.facebook.com/AppletiserSA
Twitter – @AppletiserZA